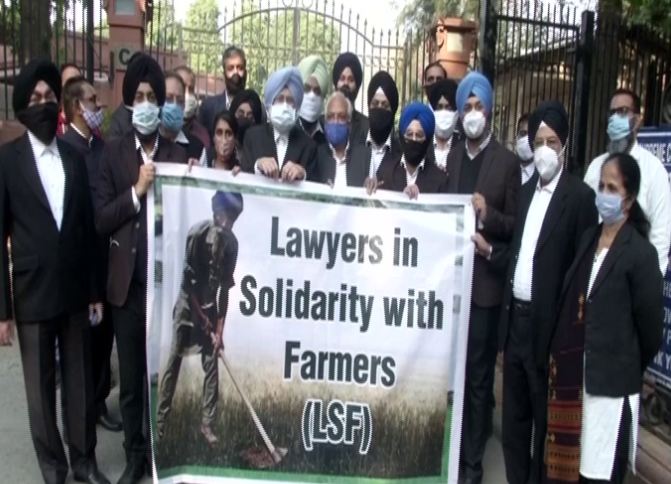 Supreme Court senior lawyers HS Phoolka, Rajiv Khosla, and others gathered outside the court in support of farmers agitating against the new farm laws and condemned the action taken by the Haryana government on Sunday in Delhi. The demands of the farmers are valid and the government should accept these demands, said the senior lawyers.
Each and every citizen of the country has the right to protest, saying farmers belong to certain political parties is extremely irresponsible, said advocate Phoolka. Many of the farmers are from my village, he said. What the Haryana government did was wrong instead the government should heed the demands of the farmers, added Phoolka. The Haryana government had attempted to block the farmers' passage to Delhi by erecting barricades, turning the water cannon on them, and ordering lathi charges to break the farmers' resolve, several farmers' outfits said.
Delhi: Senior Advocate HS Phoolka assembles with lawyers outside the Supreme Court to express solidarity with farmers of the ' #DelhiChalo ' protest , reports ANI#FarmersDelhiProtest pic.twitter.com/yMkZ288hzV

— Live Law (@LiveLawIndia) November 29, 2020
Senior lawyer Rajiv Khosla, supporting the Dilli Chalo Andolan of farmers, said the government has conspired to ruin the justice system. He informed that a meeting will be held by the Bar Council on December 4, where a decision to hold an all-India agitation may be taken.
Further, he said, the government will only give justice to those they want through their puppets ADMs and SDMs, whom they have given the power to act. Khosla had earlier written a letter to Prime Minister Narendra Modi in the context of the jurisdiction of civil courts which had been taken out from the new farm bill. He had said the bill is more damaging to lawyers and litigants.
The move came amid the massive Dilli Chalo march led by farmers demanding the recently passed farm laws to be taken back. The farmers, who are mostly from Punjab and Haryana, have gathered in and around the capital for over the last few days.