As of today morning, the US had 792,913 COVID-19 positive cases and 42,517 deaths and the numbers continue to climb. Amidst this, citizens in some of the states have taken to the streets to protest against the lockdown.
Since Trump has been pretending to carry business, as usual, most state governors have taken matters into their own hands and have imposed varying degrees of lockdown according to the situation in the respective states.
Some states across the US are slowly opening-up businesses and are easing restrictions depending on the severity of the pandemic. This has led to unease among other states who are also itching for the lockdown to ease despite the high COVID19 positive cases. This has manifested into Democrats Vs Republicans showdown as many Trump supporters only want lockdown to be eased because their governors is a Democrat.
Health-workers who are at the frontline of the fight against COVID19 have advised against this action and some states are still following the stay at home orders.
Who are the protestors?
The organizers of these protests have largely been conservative, pro-Trump and pro-gun activists. These demonstrations are much like Trump campaign events, with pro-Trump banners, t-shirts, and signs. Organizers have claimed that the protests are grass-root driven, but on a closer examination, it is clear that this is being run by right-wing groups and is one of the protests was funded by the family of Trump's education secretary, Betsy Davos.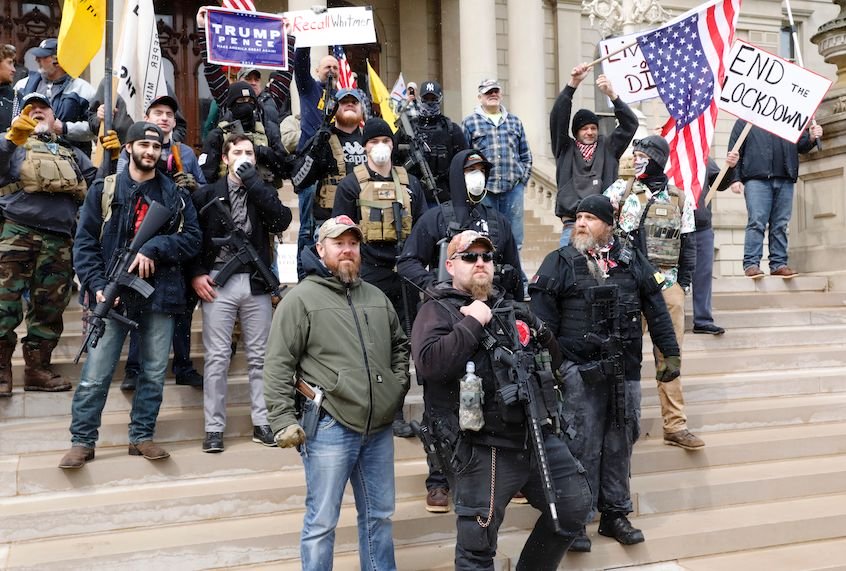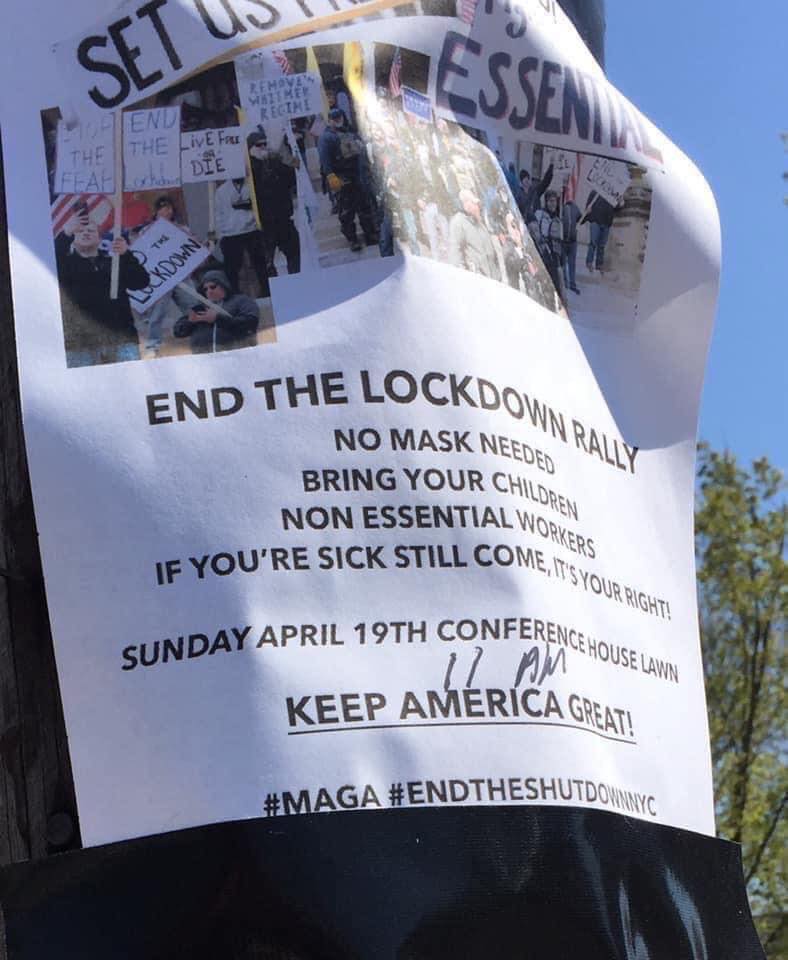 Trump´s Response to the Protests
Trump's response and the response of the White House have been mixed. The COVID-19 taskforce gave a step by step plan on how the country plans to reopen state economies. In this phase by phase plan, each phase is to last 2 weeks.
Soon after this announcement was made, Trump took to Twitter to show support to the first set of protests that took place in Michigan. He then wrote a series of tweets in support of 'liberating' other states from the stringent lockdown measures, which he said were taken too far by the state governors.
LIBERATE MICHIGAN!

— Donald J. Trump (@realDonaldTrump) April 17, 2020
Many of these protesters believe that the lockdown is too stringent and will affect their businesses and the local economy. The Trump supporters are protesting outside state governors offices claiming the are forced to take unemployment benefits which they don't want.. All they want to do is go back to work.
Protest along Meridian in front of Governor's residence demanding Gov Holcomb end stay-at-home order #WTHR pic.twitter.com/lQ01qz0Pyd

— Mary Milz (@MaryWTHR) April 18, 2020
Many of these protesters claim the lockdown has taken away their freedom and because of lockdown they are unable to visit their hairdressers to get their hair coloured.
USA (📺) If you attended this protest, … you could be dead within 3-to-30 days. pic.twitter.com/vq9MmQBtYH

— COVID-19 Coronavirus (@COVID19Coronav1) April 19, 2020
Another look at the 'operation gridlock' protest taking place outside the State Capitol in Downtown Sacramento. pic.twitter.com/3N268zgGud

— Daniela Pardo (@danielapardotv) April 20, 2020
Thousands of Americans taking part in the 'anti lockdown' protests over the past few days 🙃🙃 pic.twitter.com/lCozPVMID2

— standout.tv (@tv_standout) April 18, 2020
Thousands of protestors gathered across the country this week to protest their governors' stay-at-home orders amid the coronavirus pandemic. https://t.co/1s3caK6eSx pic.twitter.com/YMwpYYKjML

— USA TODAY (@USATODAY) April 19, 2020
Trump told reporters- at a White House briefing- that the protestors have 'got cabin fever.' "Their life was taken away from them. They want their lives back. These people love our country. They want to get back to work," he added.
"To have an American president encourage people to violate the law, I can't remember any time during my time in America where we have seen such a thing," said the Washington state governor in response to Trump's tweets.
Jax Weaver and her 7-year-old daughter at the Austin rally: "I'm not worried about catching the virus. If we did catch the virus, I feel that we're healthy enough to fight it." pic.twitter.com/1t0Jav9U8S

— Manny Fernandez (@mannyNYT) April 18, 2020
Public Response to the protests
While the protests take place across the country, they have not been garnering large crowds. According to a Pew Research Centre survey found that only 32% of the population wanted the lockdown to be lifted. While 66% of the people believed the lockdown needs to continue and were worried that the restrictions will be lifted too quickly. Many have taken to Twitter to voice their opinions against these protests. Health-care workers have gone one step ahead and have taken to the streets (maintaining social distance) and have blocked these protests by standing in defiance.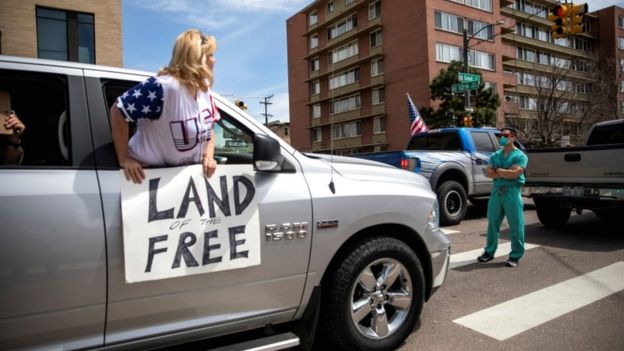 Displays of an illiterate mindset. Protestors actually telling healthcare workers to 'go to china'! How ironic that the same will take care of them when they are admitted in!#ProtestLockdown #LockThemAllUp
https://t.co/qOrbWkYr4D

— Mighty Bee (@GlazedSmoke) April 20, 2020
Denver protesters, don't forget to fill out your honorary COVID-19 Protester Card. We acknowledge your freedom to do whatever the fuck you want so don't put any burdens on our medical staff. #denverlockdown #denvergridlock #ProtestLockdown pic.twitter.com/6UnPVWbI9f

— Quarantine day what? 😳 (@_heyAdri) April 19, 2020
As the protests continue, only time will tell whether these 'repressed protestors' will get what they want or will the US fall deeper into the black hole of the ongoing health crisis