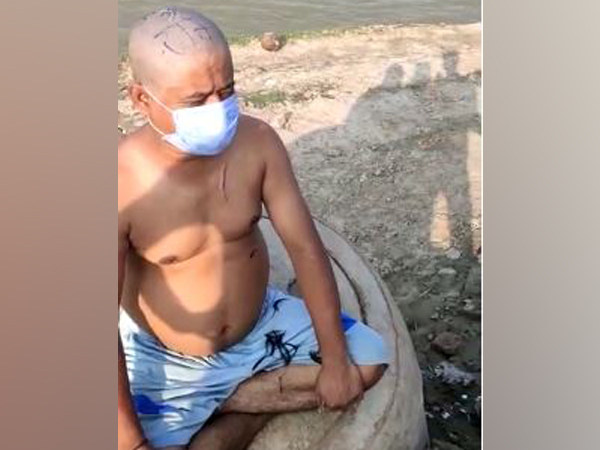 In the backdrop of Nepal's Prime Minister KP Oli Sharma claiming that the real Ayodhya was in Nepal and that Ram was a Nepali, Hindutva fringe elements in the state of Uttar Pradesh (UP) had forcefully shaved off the head of a Nepali man. It was also reported that the members of the Hindutva fringe group forced him to chant 'Jai Shri Ram' slogans and also wrote the same on his head.
The victim was also forced to call out slogans against his will including 'Nepal PM Murdabad' and also 'Vishwa Hindu Sena Zindabad'.
In this regard, Nepal's ambassador to India, Nilamber Acharya had discussed the issue with the Chief Minister of Uttar Pradesh Yogi Adityanath and was assured about the safety of Nepali nationals in the state by the CM. The following tweet was retweeted by Nilamber Acharya in this regard.
Flash: Nepal Envoy to India @nilacharya speaks to CM of UP after a Nepali national was tonsured and forced chant anti Nepal slogans. Both sides agreed India Nepal ties should not be impacted with UP CM @myogiadityanath assuring safety of Nepali nationals in the state.

— Sidhant Sibal (@sidhant) July 17, 2020
Arun Pathak, Convenor of a Varanasi-based Hindutva Fringe group, Vishwa Hindu Sena, had recorded the video of the incident and had shared the same on his Facebook profile. The video previously went viral on social media and consequently, an FIR was filed against him. Varanasi Police had registered an FIR against Arun Pathak under Sections 505(2) and 295 of the Indian Penal Code and Section 67 of the IT Act.
The news that few people in Varanasi shaved the head of Nepali youth is highly deplorable. FIR has been registered against the main accused and he is absconding. pic.twitter.com/M9AaT4ghSZ

— Dr Vijay Chauthaiwale (@vijai63) July 17, 2020
Senior Superintendent of Police, Amit Pathak has informed ANI that one of the persons involved in the incident was arrested while the police were on the search for others as well. According to the reports of The Quint, the man arrested was Santosh Pandey.
जय जय श्रीराम।।#विहिसे।

Posted by Arun Pathak on Thursday, July 16, 2020
It must be noted that the spread of hate, especially pursued by the Hindutva fringe elements might irreversibly damage the bilateral relations between not just the nations but also between the citizens of the two nations. Nepal and India have shared a long-term relationship with one another by following the non-requirement of Visas for citizens to enter each other's borders and close trade-ties under the Indo-Nepal Treaty of Peace and Friendship since 1950. The nations had also shared close linguistic and cultural ties with one another which stands disturbed owing to the rise of the Hindutva-nationalism sentiments in the country.
Read About: 25-year-old Dalit Man Killed in Gujarat's Banaskantha District