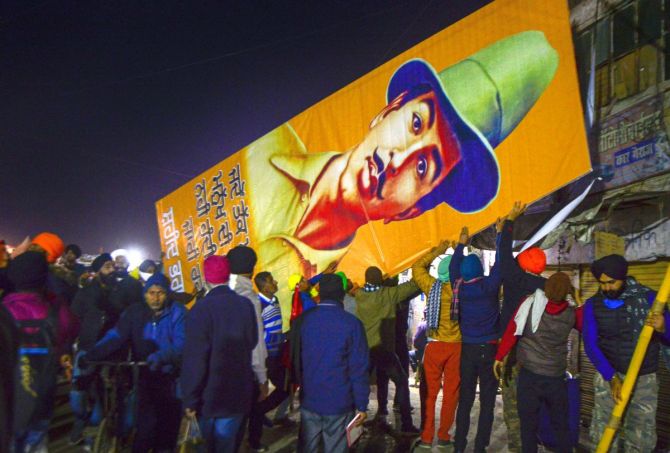 Farmers at Delhi borders and those protesting anywhere in the country will be conducting mega conferences to observe the Martyrdom Day of Bhagat Singh, Rajguru, and Sukhdev. Youths from all over the country are reaching these protest sites. Cultural programs will also be presented in these programs starting at 11 am where the ideas of Bhagat Singh, Rajguru, and Sukhdev will be highlighted. This Martyrdom Day will be dedicated to the farmers, in which Bhagat Singh's views on the exploitation of the farmers and labourers will be highlighted and the movement will be strengthened further.
Under this, the Pad Yatras from Khatkad Kalan, Hisar, and Mathura are reaching the borders of Delhi. These Yatras are getting huge public support. The messages of the complete Bharat Bandh of 26 March are also being passed on to the public via these Yatras.
According to the farmer organisations, the BJP government wants to shift its failure on the farmers. Actually, instead of finding a solution for the farmers, they are blaming farmers for creating inconvenience. Manohar Lal Khattar has said that the distance of phone calls should be fixed by the farmers. We again clarify that the government should send a proposal for dialogue in the right environment, the farmer leaders are fully ready for talks.
Vidhan Sabha March in Bangalore, Mahapanchayats in Haryana and Western Uttar Pradesh
Today, a Vidhansabha march was organised in Bangalore, the capital of Karnataka, in which leaders of the Samyukta Kisan Morcha also participated. The Agriculture Minister of the state met the farmers and received their memorandum.
Thousands of farmers and labourers arrived at the Mahasammelan in Khuiyan Toll Plaza Dabwali Sirsa. Farmer leaders Gurnam Singh Chadhuni, Baldev Singh Sirsa, Abhimanyu Kohar, Lakhwinder Singh Sirsa, SP Mishita, and many artists expressed their thoughts. A bike rally was organized by the youth of AIDSO in Rewari, Haryana in support of the farmers movement and memory of Shaheed Bhagat Singh.
The Kisan Majdoor Jagriti Yatra started from Uttarakhand, reached Gurudwara Banthara District Shahjahanpur via Gurugwara Puvaya via Nigohi, Shahjahanpur, Bareilly. In which people greeted and welcomed the march all over the way.
A mahapanchayat was organized in BV Nagar district Bulandshahar Uttar Pradesh, in which the main speakers were Harpal Singh Bilari, Yogendra Yadav, Prem Singh, Prahlad Singh Poonia, Yogendra Sirohi, Rajeev Teotia, Harish Hoon Pratap Singh Sahi, and others.